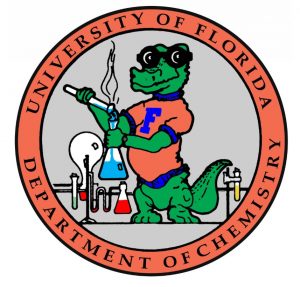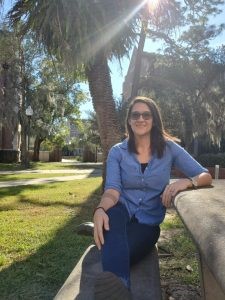 Bio
Chelsey received her B.S. in Psychology in 2013 and her B.S. in Biochemistry in 2018, both from the University of Tennessee at Chattanooga (UTC).  While a psychology undergraduate, she studied olfactory senses of end stage renal failure patients in collaboration with the Chemistry Department.  When Chelsey returned to obtain a BS in Biochemistry, she studied pyrimidine degradative pathways in Pseudomonas syringae.  After joining the Prentice Lab in fall of 2019, Chelsey began work on identifying Tricarboxylic Acid Cycle metabolites and cardiolipins in septic hearts using mass spectrometry imaging.  She also studied elucidating the MALDI plume environment using short peptides and photo-cleavable species. Chelsey graduated with her M.S. degree in 2021 and is currently a Junior Chemical and Radiological Technician at the Tennessee Valley Authority.
Awards
Outstanding Teaching Assistant (UTC, 2018)
Westbrook Research Scholar (UTC, 2018)
Clarence T. Jones Observatory Service Award (UTC, 2018)
Marvin L. Anthony Service Award (UTC, 2018-2019)
Teaching Experience
TA- General Chemistry Lab (UF, 2019-2020)
TA- Analytical Chemistry Lab (UF, 2020-2021)
TA- General Chemistry Lab (UTC, 2016-2018)
TA- Quantitative Analysis Lab (UTC, 2017-2018)
TA- Organic Chemistry Lab (UTC, 2017-2018)
TA- Physical Chemistry Lab (UTC, 2018)
Contact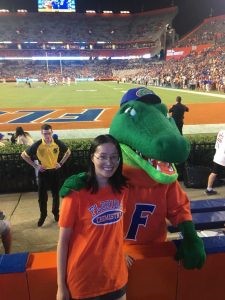 Bio
Gina received her B.S. in Resource Science and Development of Traditional Chinese Medicine from China Pharmaceutical University followed by her M.S. in Medicinal Chemistry from Peking University. Gina joined the Prentice Group in the fall of 2019 and graduated with her M.S. degree in 2021. She is currently a Senior Research Associate at Tessera Therapeutics in Cambridge, MS.
Publications
Yuzhuo Ji, Jiali Yang, Li Wu, Lijia Yu, and Xinjing Tang, "Photochemical regulation of gene expression using caged siRNAs with single terminal vitamin E modification." Angewandte Chemie International Edition 2016, 55, 2152-2156.
Jiali Yang, Lijia Yu, Liangliang Zhang, Xingsu Long, Yuzhuo Ji, and Xinjing Tang, "Synthesis and Evaluation of Caged siRNA with Terminal Single Vitamin E Modification." Current Protocols in Nucleic Acid Chemistry 2016, 67, 16-6.
Wengang Ji, Yuzhuo Ji, Qingqing Jin, Qingxiao Tong, and Xinjing Tang, "Heavy atom quenched coumarin probes for sensitive and selective detection of biothiols in living cells." Analyst 2015, 140, 4379-4383.
Long Li, Yuzhuo Ji, and Xinjing Tang, "Quaternary ammonium promoted ultra-selective and sensitive fluorescence detection of fluoride ion in water and living cells." Analytical Chemistry 2014, 86, 10006-10009.
Peng Wang, Yuzhuo Ji, Zhixuan Wang, Xinjing Tang, "Supramolecular self-assembly for delivery of oligonucleotides and its phototriggered unpacking in living cells." Journal of Chinese Pharmaceutical Sciences 2014, 23, 454–462.
Contact

Bio
Orélia joined the Prentice Group in 2019 as a summer REU student. She received her Bachelor's Degree in Molecular Chemistry from Paul Sabatier University in Toulouse, France in 2017. Her undergraduate work included an internship at the French National Centre for Scientific Research (CNRS) and the French Alternative Energies and Atomic Energy Commission (CEA) at Grenoble where she worked with Dr. Zebda Abdelkader and Dr. Marc Zelsmann on the development of a nano-bio-generator implantable in the human body. Orélia obtained her Master's Degree in Analytical Chemistry and Instrumentation at Paul Sabatier University and is currently a CDD IDeAs Engineer at IMRCP.
Contact

Bio
Matthias received his M.S. degree from UF in 2019. During his time in the Prentice Group, he focused on the structural elucidation of phospholipids using electron induced dissociation (EID). Following graduation, Matthias returned to the Air Force and is stationed at Patrick Air Force Base. Prior to UF, he received his B.S. in Chemistry from the University of Colorado, Colorado Springs (UCCS) in 2013. He served as a Rocket Propellant Chemist in the Air Force Research Lab at Edwards AFB (CA) from 2013-2015 before serving as a Science Instructor at the USAFA Preparatory School in Colorado from 2015-2018. At Patrick AFB, Matthias is currently a Deputy Branch Chief, Applied Sciences.
Awards
Officer, United States Air Force (2013-present)
Air Force Commendation Medal
Air Force Achievement Medal